Need the perfect gift? Get your hands on an MXstore Gift Voucher! Check out How to Purchase, How to Use and General Need-To-Know's about our vouchers below!
How To:
Check out our MXstore GIFT VOUCHERS!
Add 1 OR 10 to your cart and check out with Standard Shipping!
At the checkout, you will be able to personalise your e-Gift Voucher. (example below)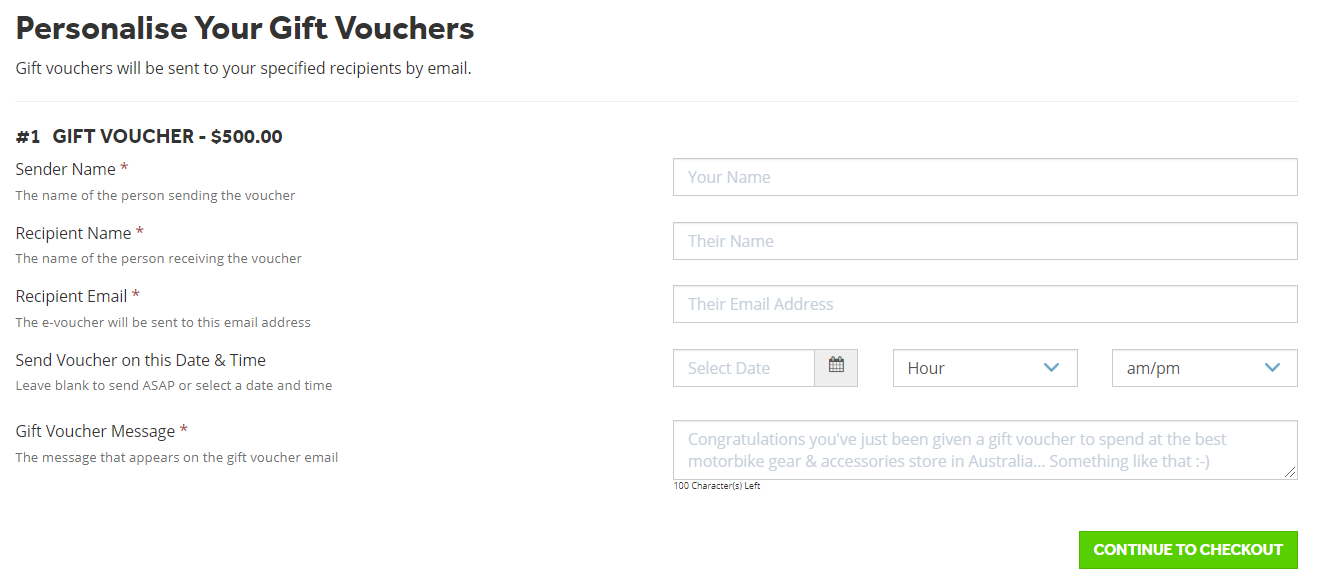 Enter the recipient's name, e-mail address, and don't forget to leave the epic human a Happy Birthday, Merry Christmas, or a "why not, you deserve it" message, which is e-mailed to them on a

virtual

Gift Voucher!
Choose to have your voucher emailed through the same day or at a preferred time. (If you would prefer a physical gift voucher sent to you in the post, please contact our Customer Service Lords!)
The lucky guy or gal will receive an e-mail with their VIRTUAL Gift Voucher at the time selected!
MXstore Gift Vouchers are redeemable at MXstore.com.au OR in our Burleigh Heads Showroom!
The recipient has 3 years to use their voucher, so they can wait until they find the perfect gift to treat themselves!
Using Our MXstore Gift Vouchers:
Add your new gear to your cart and hit the check out button!
Fill out your details and select your preferred shipping method
Once you get to the payment section, select the "Redeem Gift Voucher" drop-down box.
Enter your 14 digit MXstore Gift Voucher Number and Secret Code and click the "Redeem Voucher" button
The payment will be applied automatically for you!
Important Things To Consider:
The Gift Voucher must be used prior to the Gift Voucher's expiration date.
Gift Vouchers are non-refundable or redeemable for cash.
Gift Vouchers cannot be used to purchase our MXstore Gift Vouchers.
Should a customer return items purchased with a Gift Voucher, MXstore will, at our discretion, issue a refund in the form of a store credit. The store credit will go onto the customers MXstore account up to the value of the gift card amount redeemed.
In order to redeem your gift card, you must use the MXstore checkout option by selecting "Proceed to Checkout" whilst in the cart. ie "PayPal" checkout will bypass the gift card redemption page.
Gift vouchers can be used as partial payment with Credit Card or PayPal. However, the voucher MUST be applied to the order prior to selecting the second payment method.
Have more questions about your gift voucher? Please reach out to our Customer Service or Showroom legends!